The DAS Kohlmais Restaurant
Shared pleasure experiences for all the senses
In addition to supreme contemporary alpine cuisine guests are also seduced by the stylish ambience of our modern restaurant with terrace. Here the Kohlmais's own joinery has again gone the extra mile and created an authentic family ambience. The natural materials and painstakingly handcrafted details – such as the chandelier created from stag antlers – radiate the agreeable charm of the Kohlmais restaurant.
Head chef Tobi Gappmaier and his team look forward to spoiling you with culinary delights of the highest standard.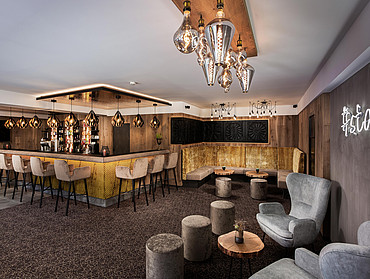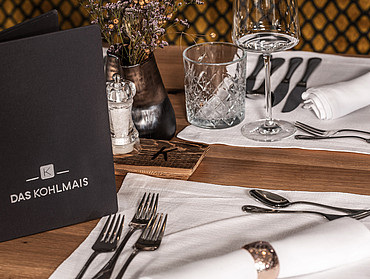 Head chef Tobi Gappmaier presents the finest art of alpine cuisine
Host and chef Tobi Gappmaier combines two key things: He masters the "craft" of cooking in all its variations AND always keeps his eyes open for innovations and modern trends. The combination, which unites alpine cuisine with national and international influences, is equally popular with locals and guests. His sense of the GOOD characterizes the concepts, menus and dishes that are created in the DAS Kohlmais kitchen in cooperation with the experienced team.

NEW in the enjoyment ensemble:
The Kohlmais specials including a steak menu, sushi variations & sweet surprises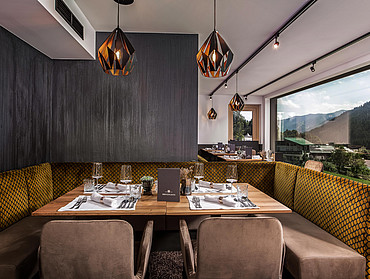 Best products and new creations
Tobi Gappmaier carefully selects the products that find their way into the DAS Kohlmais kitchen. For the various dishes, only the best quality food is used in the cooking pots. The young Saalbach chef also attaches great importance to sustainable and environmentally friendly production of the raw materials and responsible animal husbandry as part of his business management.
Please note: a table reservation for external guests is only possible with prior telephone reservation and subject to availability. We serve a 5-course high-class menu, or you can choose from our small, fine steak menu. Our sushi table is also only available in winter upon reservation.